It all started with a leaf. Several other well-baked puff pastries sat in the window of a bakery in central Sozopol, giving off an irresistible aroma.
For a woman over middle age, it's the kind of temptation you give in to with a growing sense of guilt once or twice a year. That's why you quickly devour the cake, almost with your eyes closed, as if the calories are less and as if providence doesn't see what you're doing.
"Well, well, well," I say to myself, "I'm on vacation after all, a greasy patty is not a great dietary sin." And so, in a minute my cheeks are a soft, baked dough, toasty crusts are coming out of my mouth, and small bits of cheese are falling on my feet as a sign of my gluttony.
Then you look at one of them and its almost perfect oval shape is very unusual for the Bulgarian loose white cheese. And that there is quite a lot of cooked white rice inside my classic puff pastry!
What's more, the ratio of rice to cheese is definitely in favor of the rice.
I do not hide my disappointment and post a short message on the social network with a photo to express the anger of consumers at this culinary arbitrariness.
And it never occurred to me that my food rants would generate dozens of comments. In them, the famous and the unknown take passionate public stances on the presence of cooked rice in a patty and pull recipes from famous cooking sites where rice and patty are inextricably linked.
Others share Rhodopean, Pyrenean or Thracian culinary traditions, where rice was originally used in baking, even before the Chinese or Japanese recognized it as food. Others attack the author's claims, saying, "The whole Mara is raised, but the only rice in your cake is the problem."
However, from all the unexpected reactions, in the end I am left with a firm belief: the subject of food inevitably touches the sensibilities of Bulgarians and stirs up their rather sluggish civic activity.
Therefore, in the following lines I will try to summarize my culinary experience from the food of the Black Sea coast of Bulgaria this summer. Without a scientific approach and claims of comprehensiveness.
Weight, prices and Bulgarian
This trio is, in my opinion, the first thing that every vacationer at our resorts has experienced. In most restaurants, the prices are like the more expensive ones in Sofia, and somewhere, like the expensive ones in Paris.
Twenty seven leva "mixed green salad with fresh vegetables, garden spices, Italian Bufalo Mozzarella and choice of seeds" takes the top spot in my personal selection this year.
Given the price, I didn't order it, but I saw it live. Four lettuce leaves of different colors, three rolls of fresh green, yellow and red peppers, seven to eight cucumber cubes, three cherry tomatoes cut in half, a wet ball of soft cheese and a child's handful of sunflower and pumpkin seeds. All this arranged in a kind of nest, against which, who knows why, a sprig of fresh rosemary was placed diagonally.
The weight exceeded almost 200 minimalists, but the definition of "fusion" embedded in the style of the kitchen had to be justified. Now everything that is a small amount is passed as a fusion.
You order a chicken fillet on a brown rice or pilaf canapé and you get four thin juliennes, placed on a spoonful of whitish rice mass, with raisins here and there. It's fusion!
If you have a keen eye and a little patience, you soon realize that the rice canapé has other roles on the restaurant menu and appears in both meat and vegetarian risotto, as well as mushroom rice, rice moussaka, Chinese diet rice with vegetables and more. the author's interpretation of the traditional Bulgarian casserole.
Of course, with a creative element from the chef, such as fried sausage, grilled halloumi cheese or a fried egg on top.
The same goes for snack dough at most bakeries or fast food kiosks. Guzleme is fried in a rectangular shape, it's a mini pizza baked with something on top, it's a "nest" wrapped in a boiled egg, bruschetta is served as thick nibbles, purlenka is stretched and baked.
In one place I also saw a completely unknown creative form in the form of "homemade papatnitsa". Irregular shaped balls of dough served in a bag were broken and baked.
By the way, I also found that the vocabulary of culinary specialties is quite bloated, with many local, borrowed or completely unknown (at least to me) names.
Among them, jiji papa (fried slices), shakshuka (basically shakshuka is an oriental dish, similar to mish-mash, but I saw it in the "everything with tomato sauce and an egg on top" version at sea), lapadush (appetizer). with a hot taste, a specialty of Strandzha presented as), topenica, trienica, rasetsina, trahana, cross, buttercup and what not.
The patriotic spirit has also taken over the restaurant's food, so this year it has filled all kinds of cakes, wedges, patatnikas, cabbage cakes, onion rings, kapams, kavarms, zabulenkas, marudnicas, kachamacs, mamuli, tenurkas and shins.
To Culinary-Bulgaria, one must add the ideas of some restauranteurs who name their dishes with obvious patriotism. This summer, I read the names of the specialties on the menus, including "Obran Dimitar", "Lazy Radka", "Raspasan Turkin", "Gizda Mara" and "Komite Table".
(O) poor menus
Speaking of weight and prices, I can't help but focus on the lunch menus (but especially this one) that have been in vogue for years. It's a matter of professionalism that every restaurant has a lunch menu, so almost all the traps around the beaches offer one. Its characteristic is that it mostly offers soup, salad, something prepared and homemade dessert at a cheaper price.
Instead of a thick tarator for eight to ten leba, you get a water-based option for four on the lunch menu. The cucumbers, logically, are not peeled, the fennel, if present, is with its stem, and the garlic is not reduced to give it an initial taste.
The store's salad barely covers the bottom of the plate, the meaty pepper filling almost smells of minced meat, and dessert is often a reincarnation of breakfast leftovers – a dry pancake with a spoonful of honey and banana slices, a mini croissant sprinkled with Nutella, floating soft pieces of fruit. sour milk
Of course, this is not the case everywhere. But the restaurant lunch menu tends to be a cheap implementation of outdated second-rate products. Because "with these gasoline prices", "this jump in gasoline" and "this expensive electricity" with food day after year, as the waiters explain to me.
Besides, no one wants regular customers – holidays don't last more than ten days, and next year… the camel, the camel driver.
You don't have to be a culinary expert to know that Italian cooking is very profitable. A ring of sausage with a spoonful of tomato sauce, four slices of mozzarella and as many does not cost more than five leva. Call it "pizza Salsice" on the menu, however, and immediately order at least thirteen!
It's even easier with pasta: a bowl of tagliatelle, spaghetti, linguine or whatever, whatever sauce is available (red or white), a fresh basil leaf and there you have it, a piece of carbonara, bolognese or ala-edi. The cost is three BGN, the price – from nine ninety-nine to seventeen ninety-nine. Write that the pasta is fresh and you can safely add another four or five leva on top.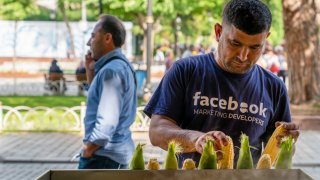 Chef's specialty
There is no place where the chef's specialty is a matter of professional honor. However, lying on the beach is like baking on the beach without sunscreen – you get burned.
The specialty is anything baked in a casserole or dipped in sauce. The food itself can be anything and can be difficult to identify. The taste is also, so to speak, cosmopolitan: the sensitive receptors feel tasty, dominated by jojen, devisil, curry, turmeric, hot pepper or a slightly burnt hint.
I personally explain this eclecticism in terms of culinary recycling: food left for a day or two is combined, processed and offered recently.
When you think about it, it is an ecological and geopolitical responsibility: how many people are starving in the world, we are throwing away food here!
In a restaurant in Sozopol with a wonderful view of the sea, we ordered the so-called fresh seafood salad. A bowl arrived with shredded lettuce, iceberg lettuce, and roasted red pepper (cattle came from some of the roasted pepper pieces), with the seafood. Nothing bad!
It would have been edible if the seafood (little fritters, marinated scallops, grilled octopus tentacles, canned shrimp, and an unknown grilled whitefish) hadn't been heated. As a result, the lettuce shriveled, became translucent and dissolved like seaweed.
I would have kept quiet, despite the price (14.89 BGN), but my husband worked as he was called. The desire to evaluate restaurants as a "secret shopper" and make the culinary experience better is a principle of professional ethics. Discreetly, quietly, with a smile and a mission to help, she spoke to the chef, sweetly reminding him that hot ingredients burn a fresh salad.
The result was insulted three generations later by the leader of Sozopol, who whispered over his shoulder: "We make seafood salad here and it's a family tradition." Well, great – soon they will actually be eating alone as a family.
And again rice and cake
That flyer at the beginning of this text still excites the social networking community. As with anything else, it is divided into two: those who don't care about rice, and others who consider it a scam for the customer. Moreover, its presence is not indicated anywhere and, in a way, it is surprising.
As the grandson of bakers, I know that puff pastry mainly contains crusts, eggs, butter (hence the puff), cheese or cheese. point All other additives, such as spinach, ground beef, cabbage and rice, must be specified on the label. However, it is a small detail.
The most important thing is not why there is rice in the cake, how thick or thin the tarator should be and what exactly "lapadush" means, but the acute reactivity of the countryman to everything he drinks and eats. As the statesman of Yes Tosho Pravesh once said, people just want to "eat and drink". If you give it to him, he is full, satisfied and sleepy.
He was right, let me tell you. Such civil activity in the face of our political reality, as in the face of cooking! Except that we were hungry again in the meantime… what are we going to eat for dinner?